Product Description

Uncut Window Tint Film

This is for uncut material at 40" width.

Shipping is free domestically.

Select the length of your roll of film.

Select the shade of window tint film you need.

This is a 1 Ply film

Choice is 2%, 5%, 10%, 20%, 35%, 40%, 50%, and 70%

Instructions provided for a successful installation.

Can be installed from 30 minutes to an hour.

This item is good for any miscellaneous project you would like to work on, or for vehicles that we do not have Precut film for.


| | | | |
| --- | --- | --- | --- |
| | Our window tint is computer precut with the finest equipment on the market and it will precisely fit your exact make, model, and year vehicle. | | We offer you the best value on the market. Others claim to have the best films and services, however they over charge you for what we offer at discounted pricing. |
| | Our window tint reflects harmful UV rays, filters day time lights, and filters nigh time head lights. | | We offer the most "Free Shipping" items in our industry, there are no hidden fees, and have a strict 100% up front honesty policy. |
| | Our precut tint keeps the interior of your vehicle feeling cooler and it will extend the life of your leather, vinyl, plastic, and other materials. | | We work very hard on shipping your packages quickly and safely. |
| | Our precut tint will increase the security of your glass by adding a layer of laminate film to better hold together breaking glass. | | Our customer service is highly responsive and answers all emails in a timely and professional manner. |
| | Our precut tint will greatly increase your privacy that you need in todays fast paced environment. | | We offer the most extensive line of precut patterns available on the market today. Each pattern has been tested and fine tuned to meet and exceed your expectations. |
| | Our precut tint is non-metallic meaning it is safe to install on windows without blocking signals such as cell phones and radios. | | We understand your needs and work very closely with you throughout your project to the finish line. We offer the best installation instructions with links to free online videos. |
| | Our film is super hard coated to best resist scratching and give you the best installation possible. We also visually inspect and carefully handle all film to make sure it will arrive without any flaws. | | Buy it once and buy it from the best. If you would like to replace any window tint after it was properly installed and the quality did not meet your standards, just email us and we will work with you on replacing the pieces. |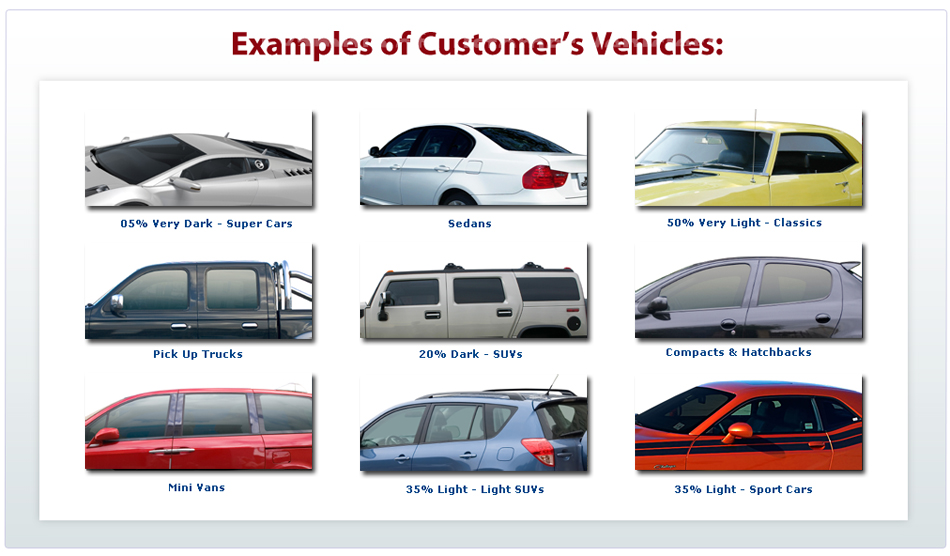 Product Videos
Custom Field
Product Reviews
I order at least twice a week and never had a bad order ever. Good service fast shipping great product just starting out tinting and so far it's pretty easy

I received in a very short time, when I ordered. This product satisfied mi wonder curiosity, and I putted in my car window, so far it, is ok.

Overall the window tint is really good not a fan of the split back window on some cars. You all should offer it both ways split or on piece. Other than that windows are perfect ..

Short shipment time and product worked very well. Easy to put on the window.

Received quickly, highly recommend this company!

It stuck to everything but the window!!! Could not get the wrinkles out no matter how hard or long you work at it. Finally gave up and wadded it up and pitched it in the TRASH!! Now have a new respect for professionals.

so far i have not installed the tint. i need some informatiion and help. i don't think i got everything i need to install the tint. all i got was a 5x40 roll.i want to instasll it on my kitchen window...Help